The key components of most home security systems are: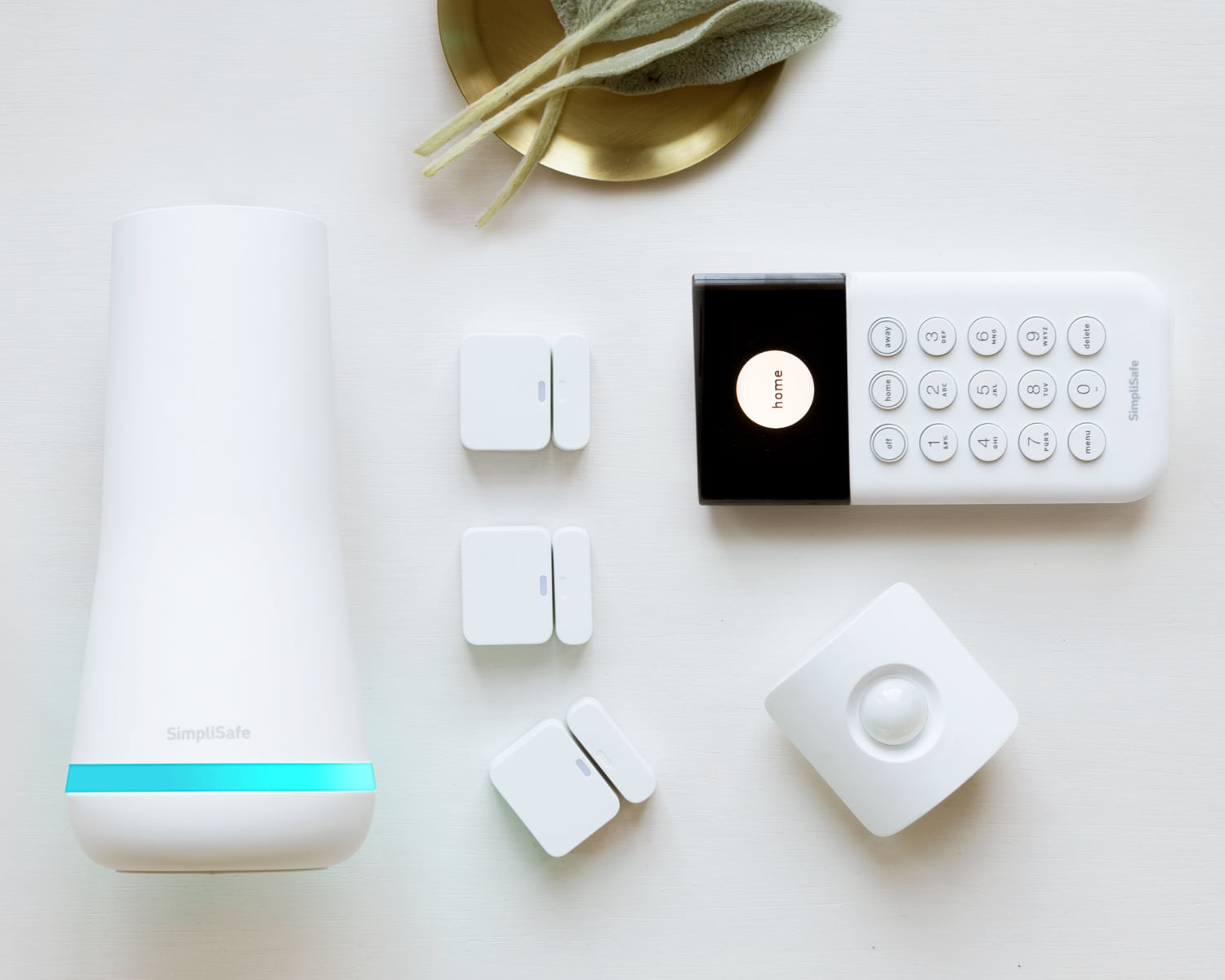 Door and window sensors
Digital keypad
Alarm system
Some companies offer additional services:
24/7 monitoring, often sold in 3-5 year subscriptions
Video surveillance, including doorbell cameras
Motion detectors
Smart locks
What Are the Differences Between Home Security Companies?
The US home security industry consists of several corporations, the most popular being SimpliSafe, ADT, Vivint, Protect America, Brinks Home Security, Google Nest Secure, AT&T Digital Life, and Xfinity Home.
All of these companies offer professional monitoring and technician installation, oftentimes through third-party providers like Brinks Home Security.
The biggest difference between home security systems is whether they require a monitoring contract. Many home security companies will offer free professional installation, but it is often bundled with multi-year contracts.  Companies like ADT and Vivint often charge less upfront for equipment, instead locking potential customers into long monitoring contracts with fees over $60/mo for base packages.
Alternatively, "DIY" home security systems like SimpliSafe and Nest Secure by Google charge a higher upfront cost for hardware, but don't typically sign their customers onto long commitments.
Some home security subscriptions, such as ADT's, are also resold by authorized distributors at a markup. These distributors obtain new customers through door-to-door sales, online advertising, and telemarketing.
What Should I Watch Out for with Home Security Companies?
Predatory Sales Tactics
Authorized dealers of home security systems sometimes use these manipulative sales tricks that you should watch for if you are shopping for a system. 
Limited Time Offer Scam
A common tactic used by door-to-door salespeople and online "authorized premier providers," who are typically middlemen reselling subscriptions to ADT and taking a commission, is the "Limited Time Offer" scam.
A reseller will tell you that you have a limited number of hours to redeem a special offer. This tactic is used to rush the buyer into making a purchase before they realize the hidden costs of the agreement. In these cases, the buyer can typically find another reseller or company who can match the price without being rushed into the transaction.
Free Equipment and Installation scam
Many companies and especially third-party affiliates will make a huge deal out of the "FREE" aspect of the equipment, while figuratively and literally minimizing the mandatory installation charge and long financial commitment. Meanwhile, many of these same sites will mention in a second footnote that "Labor charges may apply," in addition to the $99 installation charge and 3-year subscription.
Robocalls and door-to-door sales harassment
Many "authorized distributors" are third party resellers that sometimes make promises that cannot be fulfilled.
Requesting a quote online requires you to opt in to pre-recorded robocalls and SMS text spam from the seller and any of their affiliates.
Door-to-door salespeople will knock on your door in certain neighborhoods 3-4 times per day, even during the coronavirus shutdown

The salespeople use high-pressure or deceptive sales tactics to get potential customers to buy expensive, and sometimes substandard, systems or equipment they don't need.
Controversies and Privacy Concerns
Some home security and smart home products have raised alarms from consumer protection and digital civil liberties groups for their lax approach to consumer privacy. Most notable is the Amazon-owned Ring line of smart doorbell cameras, which came under heavy criticism for lax security practices in pursuit of growth. The privacy concerns were so pervasive that even consumer guides such as The Wirecutter stopped recommending Ring doorbells entirely.
Ring's controversies include:
Its data sharing and sales boosting partnerships with hundreds of local law enforcement agencies
Its Neighbors app which surveils and frightens residents
Its previously lax encouragement of 2-factor authentication for customers
Google Nest's controversies include:
Not disclosing that it installed a microphone in its Nest Guard home security product to buyers
SimpliSafe's controversies include:
Workplace issues, such as dirty work environments and racist comments by managers directed at workers
ADT & Broadview Security's controversies include
Broadview Security, which merged with ADT in 2010, was criticized for television ads which were seen as fear-mongering and offensive by many.
Common Home Security Complaints
These are the most common issues people share on the FairShake Complaints Forum about their home security system:
Poor installation and equipment quality resulting in charges for service that never worked
Customers get duped into signing long contracts that are expensive to cancel, even when moving.
A common scam is that door-to-door salespeople working for affiliate companies will exaggerate their terms, for instance offering a 30-day or 6-month trial period to cancel at any time, or promised specific equipment which the home security company does not honor
Some customers report that elderly members of their family were tricked into signing new contracts
Companies with mandatory monitoring contracts require customers to pay out their 3-year contract, even if their business closes due to COVID-19 or if they move Companies threaten a hefty cancellation fee to get people to start new contracts when they move
Bad customer support
Customers report cancelling their contracts by phone to later be billed again and told that they had to send a cancellation letter instead
In some cases, companies refuse to provide their customers with repairs if payments lapse, even when people try to pay their monthly bill. Companies instead require customers to sign a new multi-year monitoring contract before they will send a technician
Customers also allege that customer support purposefully delays implementing their service in order to wait out the period when refunds can occur, or promised refunds that they never delivered
Unethical billing practices
Despite signing a 3 or 5 year contract at a quoted price, many ADT customers have learned that the company will increase monthly rates after the first year.
Some companies will hide the actual cost of their services within additional installation or equipment fees that aren't apparent until after the system is already installed
Some customers report their home security company forced them to renew their contract an additional 2 years to repair a piece of equipment that never worked.
Requiring customers to pay a monthly increase to avoid getting their service cut off, and then charging customers a cancellation fee
Some monitoring contracts state they will automatically renew your contract in 5 year increments, without warning or notice.
Stuck in a home security contract?
If you need to cancel your subscription and are being charged an outrageous fee, or were charged installation fees that were not properly disclosed, you may be able to make a legal claim.
If you are a customer of SimpliSafe, Brinks, Protect America, AT&T, or Xfinity Home Security, fill out the form below. If your complaint is about ADT or Vivint, please use this link.