Note from FairShake: We earn a small commission if you click a link and sign up at no additional cost to you.
Trim: An Easy Way to Save Money On Bills
Many billing issues can be solved without having to start a legal claim. If your phone or internet bills have gone up after a promotion expired, you may be able to negotiate a lower rate.
In this case, your options are calling the company or using a personal finance assistant to do the work for you.
We like using the website Trim to see if any of our monthly bills are eligible for a lower rate. It can also detect and cancel your unused subscriptions on your behalf.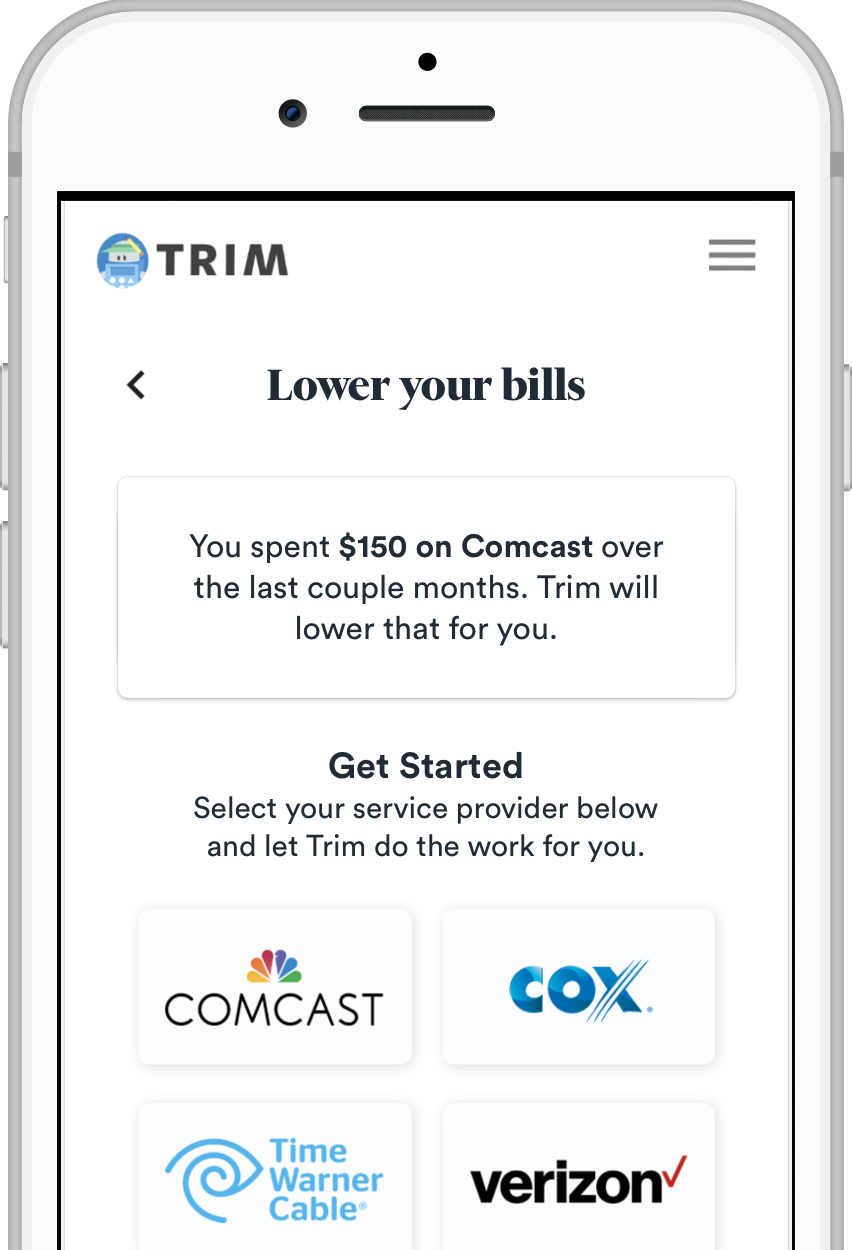 Trim conncts with the largest phone, cable, and internet companies, including:
How Trim Works
Negotiating Your Bills
Trim users can connect their phone and cable bills using their online accounts with their service provider. If you ask Trim to renegotiate your cable bills, they may be able to renew your contract at a lower rate. This is a good option if you are satisfied with your service and don't plan on moving within the next year.
When Trim saves you money, they charge 33% of your annual savings for commission. Or, users can pay $99 for a year of Trim Premium and keep 100% of the savings.
Canceling Subscriptions
First start by connecting a credit card or debit account. Trim scans your last 3 months of transactions to identify recurring subscription charges from merchants they recognize.
Once the subscriptions are identified, you can ask Trim to cancel it on your behalf. It is free to identify long-forgotten subscriptions, but you'll need Trim Premium to cancel them without doing the work yourself.
More Premium Features
Trim Premium helps budget-conscious consumers save money with exclusive features, including:
High yield savings plans
Bank fee negotiation
Medical bill negotiation
Automatic credit card payments
Unlimited access to financial coaches
How much does Trim cost?
Feature
Price
Individual Bill Negotiation
33% of annual savings
(only if they succeed)
Unlimited bill negotiation, subscription monitoring,
bank fee negotiation, medical bill negotiation, high yield savings plan
$99/year
(Trim Premium)
We earn a small commission if you click this link and sign up at no additional cost to you.